Via Meadia
Walter Russell Mead & Staff
Angela and Recep
A spat over detained human rights activists points to deeper festering problems.
American Balkanization
California, New York, and lesser liberal states are inaugurating something new and dangerous in American politics.
blue reform?
There are still Democrats who occupy something like the liberal center that Bill Clinton helped forge in the 1990s.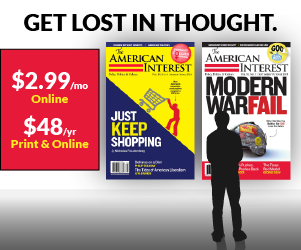 overregulated
Stifling building restrictions in one of America's most progressive states have choked off access to housing for people of modest means.
How to Turn the "Ultimate Deal" into the Ultimate Failure: Ignore the Past
The Peace Process
Three lessons the Trump Administration must learn if it wants to avoid a costly and embarrassing failure.
Image Placeholder
After Putin
Image Placeholder
Fake News Watch
Image Placeholder
India-Israel
Image Placeholder
Bought and Sold
Image Placeholder
Heed This
Image Placeholder
Bad Tsar/Good Boyars
July/August 2017
May/June 2017
March/April 2017
The AI Podcast
With Richard Aldous